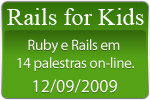 O Rails for Kids foi uma maratona beneficente de palestras on-line realizada no dia 12/09/2009  que contou com grandes nomes da comunidade Ruby on Rails do Brasil e de fora. Nós da Plataforma Tecnologia fomos representados por mim (Hugo Baraúna) e pelo George Guimarães.
A qualidade do evento foi surpreendente, ainda mais quando levamos em consideração que ele foi realizado totalmente on-line. Na minha opinião, a organização do Rails for Kids foi excelente pois juntou um respeitado time de palestrantes, utilizou uma ferramenta para apresentações online/e-learning  muito boa e teve presença em peso da comunidade. Parabéns ao Carlos Eduardo pela organização!  Eventos assim são sempre bem-vindos! =)
Mas para aqueles que não puderam participar do evento, não se preocupem. Ainda há uma chance: as palestras foram gravadas! Basta entrar no site do Rails for Kids e fazer uma simbólica doação.  Você ajuda quem precisa e assiste a palestras de primeira qualidade. É um benefício em dose dupla! =D
Se não puder ajudar com doações, divulgue. Vale lembrar que o objetivo maior é ajudar crianças carentes.
Valeu pessoal!
obs.: para ler um bom resumo das palestras do evento, dê uma olhada nesse post do Carlos Antônio, da para ter uma ótima idéia!
This entry was posted on Wednesday, September 30th, 2009 at 12:21 pm and is filed under Português. You can follow any responses to this entry through the RSS 2.0 feed. Both comments and pings are currently closed.