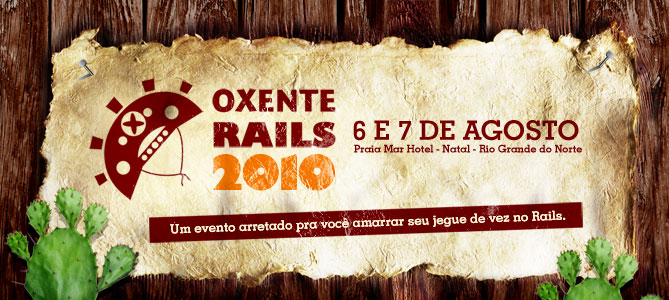 Pois é pessoal, estamos há somente dois dias do Oxente Rails 2010 e nós da Plataforma Tecnologia já estamos na expectativa para embarcar para Natal!
@cantoniodasilva, @fabioyamate, @hugobarauna, @josevalim e @vinibaggio já estão com as malas prontas para aproveitar os dois dias de palestras sobre Ruby, Rails, agilidade e empreendorismo. Certamente será uma grande oportunidade para re-encontrarmos todo o pessoal da comunidade Rails e não poderíamos perder essa!
Aliás, gostaria de parabenizar o Paulo Fagiani pela excelente organização do Oxente Rails. Parabéns!
Mas falando em palestras… quero convidá-los a assitir as apresentações do José Valim e do Hugo Baraúna que ocorrerão lá no Oxente Rails. Serão dois assuntos:
DRY – Don't Repeat Yourself (José Valim)
As nossas ferramentas open source desempenham um papel importante no ganho de produtividade do nosso dia-a-dia. Nesta palestra, José Valim apresentará os nossos principais plugins e como cada um deles se integra ao Rails 3.
Project Rescue – Salvando projetos à beira do precipício (Hugo Baraúna)
Hugo Baraúna contará uma história de horror (real) e explicará como o nosso processo de Project Rescue pode mudar o rumo de um projeto quase perdido para um final feliz.
Pessoal, aproveitem o evento ao máximo e nos procurem para conversar e discutir sobre Ruby, Rails e desenvolvimento de software. Mas não se esqueçam que a praia e água de coco também fazem parte da programação, hein?!
This entry was posted on Wednesday, August 4th, 2010 at 1:11 pm and is filed under Português. You can follow any responses to this entry through the RSS 2.0 feed. Both comments and pings are currently closed.