Para quem acompanha a comunidade Ruby brasileira, não é nenhuma novidade que nos dias 3 e 4 de Novembro teremos mais uma edição do RubyConf BR.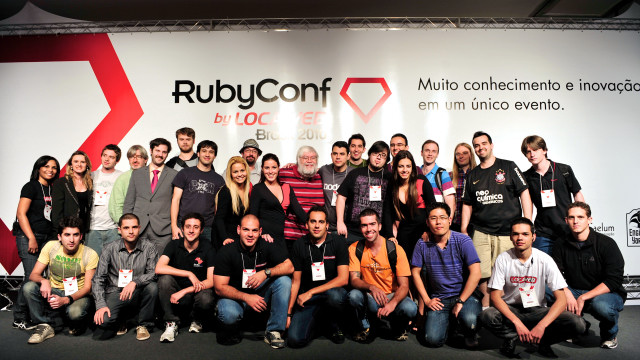 Assim como no ano passado, o evento acontece no Centro de Convenções Frei Caneca, perto da Av. Paulista e de fácil acesso.
Toda a equipe da PlataformaTec estará lá. Além disso, José Valim irá nos contar sobre a experiência de criar uma nova linguagem (Elixir) e como isso o fez aprender mais sobre Ruby. Será no dia 4, às 17h10.
Não deixe de nos procurar para bater um papo bacana. Aproveite e fique também para o Happy Hour que sempre acontece após o evento. É a oportunidade para conversar e conhecer todo mundo que trabalha com Ruby no Brasil. Vai perder essa? Inscreva-se!
Tags: eventos, rubyconf, rubyconfbr
This entry was posted on Tuesday, October 18th, 2011 at 2:16 pm and is filed under
Português
. You can follow any responses to this entry through the
RSS 2.0
feed. Both comments and pings are currently closed.