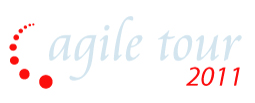 Nesse Sábado (19/11), a PlataformaTec estará presente na etapa São Paulo do Agile Tour 2011.
O Agile Tour, considerado o maior evento sobre agilidade do mundo, tem como objetivo disseminar a visão, a cultura e as práticas adotadas pela comunidade ágil no desenvolvimento de software através da troca de experiências entre os participante. É uma excelente oportunidade de aprender mais sobre as nuanças do ágil no dia-a-dia dos profissionais.
Ano passado, em sua terceira edição, o Agile Tour reuniu cerca de 7.500 participantes em 44 cidades espalhadas por 15 países. No Brasil, o evento foi organizado em 5 cidades e atraiu mais de 600 pessoas no total. Esse ano, só no Brasil serão 12 cidades participantes e, com certeza, teremos um recorde no número de inscritos.
Ao longo do dia teremos nove palestras sobre diferentes temas – dentre os quais: "PO, tão simples como dizem?", onde estarei representando a PlataformaTec em um bate-papo com o público sobre os skills do Product Owner que nem sempre estão presentes nos projetos ágeis.
Caso você se interesse pelo assunto, não perca o Agile Tour 2011. Além de ser uma maneira diferente de se aprender mais sobre ágil, é um ótimo canal para conhecer pessoas e ampliar sua rede de contatos.
Ah, o evento é gratuito! Por isso, não perca tempo e se inscreva já!!
Tags: Agile, product owner, project, scrum
This entry was posted on Tuesday, November 15th, 2011 at 11:30 am and is filed under
Português
. You can follow any responses to this entry through the
RSS 2.0
feed. Both comments and pings are currently closed.