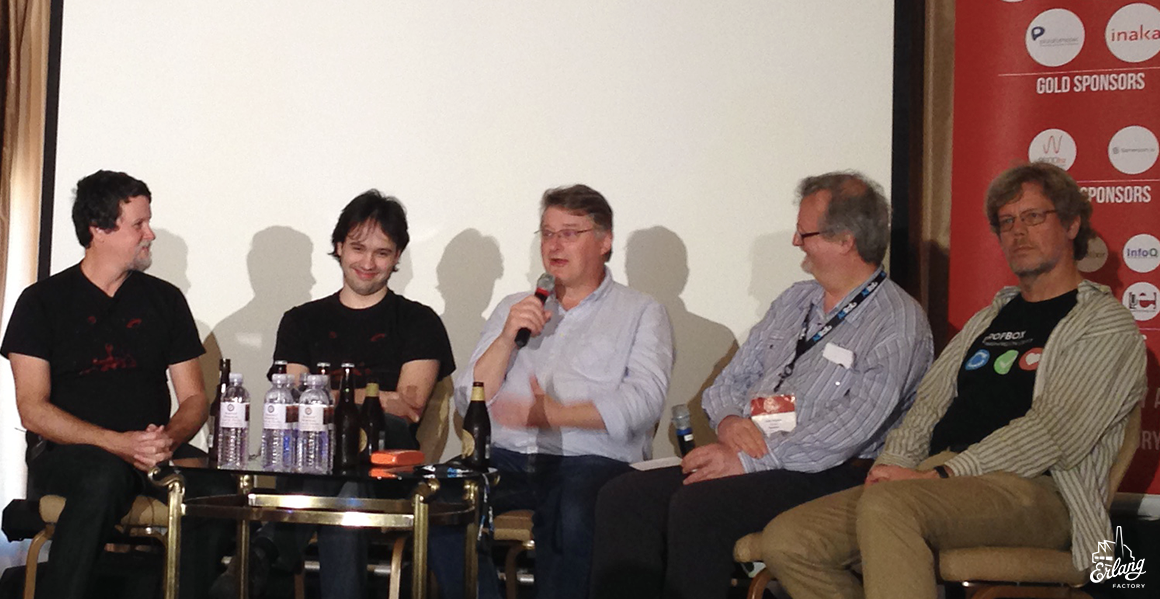 Two weeks ago José Valim and I went to Erlang Factory San Francisco and we had a great time. Erlang Factory San Francisco is one of the biggest events in the Erlang community. One of the things that got me most excited about it was how many people were excited and talking about Elixir throughout the event.
Elixir talks
The event itself had a whole track dedicated to Elixir. I may be biased but the talk that I liked the most was Valim's one. In his talk, he explains what Elixir is about and how the language foundation is enabling Elixir maintainers to explore different strategies for laziness, parallelism and distribution. You should definitely watch it:
Besides Valim's talk, there were many others. Jamie Winsor shared his experience in developing a whole Massively Multiplayer Online Game platform using Elixir. In another room, Frank Hunleth introduced the Nerves Project to run Elixir in embedded devices.
I'll not comment on each one of the talks because this week's Elixir Radar will be a special edition focusing only on the Elixir talks at Erlang Factory. Subscribe to Elixir Radar and stay tuned! Also, you can go ahead and watch all of the those Elixir talks on Youtube.
People using Elixir in production
The highlight of the event was chatting with other Elixir developers. It was awesome to see how many developers are falling in love with Elixir.
Not only that, many of them are already running Elixir in production! So Valim and I decided to grab our phones, order a microphone from Amazon and record some video interviews to show their experience running Elixir in different environments, from marketing and video companies to messaging systems and embedded devices.
We're still editing those videos, but as soon as we get them done, we're going to publish them in our Youtube channel and will announce them here and in our Twitter account.
Stay tuned for more Elixir news!
Update (04/23/2015)
We already have a video teaser of the interviews we did with companies using Elixir in production. Check it out!