Nos dias 30 e 31 de Agosto de 2012, aconteceu o maior evento de Ruby da América Latina: a RubyConf Brasil, e a Plataformatec marcou presença com palestras e lightning talks. O evento foi um sucesso, com mais de 750 participantes durante a conferência, e mais de 500 pessoas assistindo o evento online através do site da Eventials.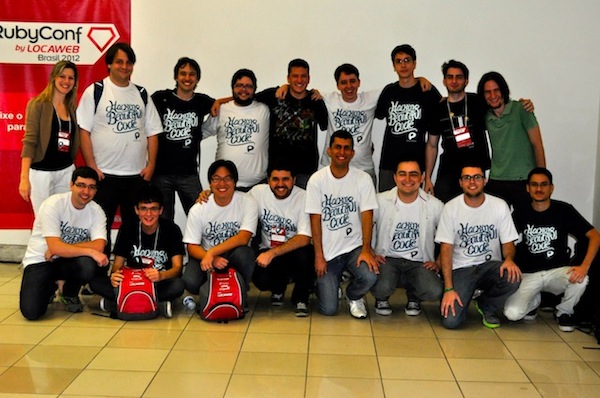 Abaixo você pode ver os temas, com links para os slides e vídeos:
Palestras
Vamos falar sobre Concorrência
Por José Valim. Confira o vídeo.
Escrevendo Aplicações Melhores com Active Model
Por Carlos Antonio. Confira o vídeo.
Conhecendo as Entranhas do Rails
Por Rafael França. Confira o vídeo.
Lightning Talks
Contribuindo para o Rails
Por Carlos Galdino.
I18nAlchemy
Por Lucas Mazza.
Copyright, Licenças Open Source e você!
Por George Guimarães.
Confira o vídeo das Lightning Talks.
Sinta-se à vontade para ver e rever os slides e vídeos das palestras, e nos passar seu feedback através dos comentários. Não deixe também de conferir as outras palestras disponíveis, e se você escreveu um post sobre o evento em seu blog, adoraríamos ver um comentário com um link compartilhando seu post.
Gostaríamos também de agradecer e parabenizar o Fábio Akita e a Locaweb pela ótima organização e alta qualidade do evento, tudo funcionou perfeitamente para que todos pudessem aproveitar ao máximo a conferência.
E nos vemos na RubyConf Brasil 2013!
Tags: activemodel, conference, copyright, eventos, rails, rails 4, rubyconfbr, talks
This entry was posted on Tuesday, September 4th, 2012 at 1:27 pm and is filed under
Português
. You can follow any responses to this entry through the
RSS 2.0
feed. Both comments and pings are currently closed.