Primeiramente, gostaríamos de enviar nossos sinceros agradecimentos aos elogios e comentários sobre as nossas palestras e adesivos durante a RubyConf. Foi muito bacana receber o feedback de todos vocês. Em nome de todo time da Plataformatec, agradeço pelo reconhecimento do nosso esforço e trabalho.
Foi também durante a RubyConf que lançamos o nosso primeiro curso online de Ruby on Rails em parceria com a Caelum. Trabalhar com eles foi uma experiência muito legal. Nos dedicamos bastante mas, ao mesmo tempo, foi muito divertido.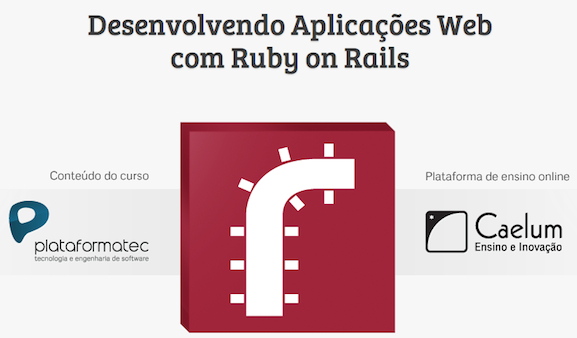 http://rubyonrailsonline.com.br/
E é com muita empolgação que nós estamos fazendo o pré-lançamento do nosso segundo curso hoje!
Público alvo dos dois cursos:
- O público alvo dos dois cursos são desenvolvedores que estão iniciando em Ruby on Rails mas que já possuem algum conhecimento em desenvolvimento web.
Fiquem a vontade para comentar e enviar qualquer feedback pelos comentários. Esperamos que vocês gostem.
Tags: cursos, cursos online
This entry was posted on Monday, October 8th, 2012 at 11:29 am and is filed under
Português
. You can follow any responses to this entry through the
RSS 2.0
feed. Both comments and pings are currently closed.