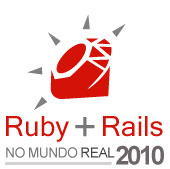 O que é o Ruby on Rails no Mundo Real?
É  um evento organizado pelo Guru-SP e pela Tempo Real Eventos e contará com grandes palestrantes. Esta será a segunda edição e ocorrerá em São Paulo, no dia 29/maio. Para mais infos, visite o site do Guru-SP e veja as fotos de 2009 (via @agaelebe).
Como participar do sorteio?
É muito simples.
1) Basta ser um follower da @plataformatec e
2) twittar "Eu quero ir ao #rubyreal2010 com a @plataformatec – http://bit.ly/clvpFk"
(basta clicar aqui para twittar).
O prazo para participar será encerrado no dia 21/maio e o resultado será divulgado no dia 22/maio pelo nosso blog e twitter.
Por que a Plataforma Tecnologia está sorteando um ingresso?
Porque faz parte da nossa filosofia e DNA contribuir com a comunidade Rails. Patrocinar e divulgar eventos é uma maneira de contribuir.
Por isso estamos pedindo sua ajuda para divulgar o evento. Como forma de retribuição, sortearemos um ingresso.
Participe! Contribua! =D
This entry was posted on Tuesday, May 18th, 2010 at 2:08 pm and is filed under Português. You can follow any responses to this entry through the RSS 2.0 feed. Both comments and pings are currently closed.